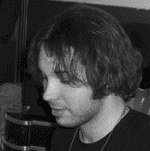 Shane Cooley is a 19 year old acoustic rock singer/songwriter who is on a nonstop road to success. For the past five years, Shane has performed his library of over 150 original songs in many venues, from large festivals attracting 75,000 people, to intimate songwriter showcases, up and down the East Coast. His recording career includes 5 home-recorded and 4 studio CD's that have received a great deal of radio airplay from local stations to XM Satellite Radio. One song, "Don't Want to Be in the City Tonight" was featured on the IFC show "The Minor Accomplishments of Jackie Woodman."
Shane is a freshman at the College of William and Mary. Recently he formed a rock trio, Shane Cooley and the Aviators, with fellow students Christian Amonson and Will Murphy. The band has gained immense popularity at the W&M campus and is booking for the college circuit. They just finished their debut, self-titled demo, recorded by Stewart Myers.
Shane has recently worked with producers/musicians Stewart Myers and Chris Keup, who have worked with Lifehouse, Jason Mraz and other successful artists. Chris Keup, who worked with Shane on the preproduction of his latest album, Flying Naked, as well as the platinum debut of Jason Mraz, said, "Shane Cooley writes strong songs with nice hooks and is very dedicated to his career." Over the years, Shane has developed a working relationship with national producer/songwriter/recording artist Steve Bassett who had this to say: "I met Shane Cooley a couple years back...he is an artist committed to his craft and his positive outlook and drive will take him where he wants to go. When you see him perform, you'll see what I mean."
While in New York, Shane also mastered his 9th CD, Flying Naked with audio guru Fred Kevorkian (Dave Matthews Band, The White Stripes) at Avatar Studios. "Flying Naked" is Shane's most powerful release with an all-star lineup of musicians and 10 of Shane's original heartfelt and inspiring songs that his fans old and new have come to love.
Shane also uses his music career to help in the community as well as be a mentor. The past two years, Shane has created his own charity drive and worked with 105.5 WRAR FM. The "CDs For Christmas Drive" collected CD's and CD players that were donated to needy children during the holidays, this helped to expose them to all genres of music. In the wake of September 11, 2001, Shane dedicated a song he wrote, "Live On USA", to raise money for the Red Cross Relief Fund of America.
For a young artist, Shane Cooley has developed a strong resume' as an experienced artist with a will to go as far as he can.
Buy my new CD, FLYING NAKED!
Official Website of Shane Cooley