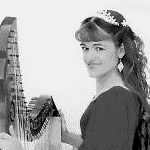 From her website:
Christina Lee Marshall, Professional Lever & Pedal Harpist, Violinist and Pianist
In 1981 I was born in central Illinois, I was the first of four kids that my parents, Neil and Jeanne, have borne and raised. My name was shortened from Christina to Nina when a young toddler couldn't say my real name. From then on I have been known as Nina!
One of my first memories is of me wanting to learn the piano. At the age of 7, my Mother found a teacher so I could study the instrument. At first, I absolutely loved every minute of it...and then it dawned on me...Studying music is WORK!
I then wanted to quit but my Mother wouldn't let me. She'd let me have breaks then I'd go right back to lessons. I then fell in love with the piano all over again after being inspired by one of my instructors, Janet Cagle in AR. She helped me realize that although music does take work, it could be fun work! I have studied piano with various teachers from both IL. & AR. I learned piano technique, performance, and my favorite...Theory!
I started Violin when I was 15. A friend of mine let me play on her violin and I was hooked. My first violin was given to me for Christmas and my first attempt at playing was pretty squeaky! I promptly found an instructor and began to study. That first violin was a German violin. I now own a beautifully hand constructed Jeremiah Senner violin. It has the sweetest tone and the playablity is amazing. I have played my violin for weddings, recitals, and have been a member of an orchestra as well as small ensemble groups. My latest Cd, Christmas Blessing, has me playing this superior instrument on Ave Maria with my Lever harp accompaning. A beautiful mix of complementary tones! My instructors include past members of the St. Louis Symphony Orchestra as well as from several local orchestra's in central IL.
In 1997 I saw a picture of a harp...I thought "WOW! wouldn't that be neat to play?" I did some research on harps and quickly found out that they were too expensive for my family or myself. I figured that was the end of that. My Dad didn't think so! He mentioned that someone has to make them, why not you?! That was an interesting thought! Then I did some more research on harps only this time on building them. I found information on it and got ready to start my instrument. I then ran into another problem. The wood that I needed for the harp was also too expensive for me. Dad's reply, "We have dead trees in the backyard. Let's use them!"
He and the rest of the family then built a sawmill from scratch with plans that he drew up. I had to learn all about cutting, curing, and storing wood for harps! Then I needed to learn about cutting, fitting, and shaping wood to build the harps. My very first (successful!) 36 string lever harp, made of Black Walnut wood was completed in 1998. I decorated it with horses, paintings, carvings, even the feet are horse hooves! Horses are my favorite animal.
Once word got around that I had a harp, I started getting calls from people wanting me to perform and tell my story, I quickly realized that I had better learn the harp well and fast because people were waiting for me to perform!
Since then, I have studied under amazing instructors to give the best possible performances to my customers. As a professional harpist I have done countless weddings, dinners, and a few funerals. I even do skits for schools and libraries with all of my harps!
Not long after being a professional lever harpist I started to get requests for a harp CD! Oh my, what a project! I arranged 14 hymns for harp solo, harp/voice, and harp/cello combinations. I then went looking for a recording studio...with one thing in mind...the recording engineer must have experiance with recording harps!
I then found a studio in Champaign, IL and the studio engineer, Mark Rubel, even owned a harp! I learned how the recording process worked and had a good bit of fun with all the wires and mics hanging around! :) I then needed a CD cover. I made a costume of blue and silver baroque satin and then my mother, Jeanne, my personal photographer, took all of the pictures for the CD covers and booklet! In Feb. of 2004, my first CD "For The King" was released! My customers then wanted another CD...only this time, with Christmas music! As soon as I had enough money saved for another Cd I went to work on recording CD #2..."Christmas Blessing". I made a red satin dress and decorated it with rhinestones. My Mom again took all of my pictures for the CD booklet and covers! It took a year to arrange the 15 songs and then another year to actually record them and release the CD! In Sept. of 2006, the Christmas Blessing CD was released to the public for the Holiday season!
All of the proceeds from this Cd went into "Nina's Pedal Harp Fund"....the CD has become so popular that on Dec. 11th 2006, I was able to purchase a brand new, Concert Classic pedal harp from Venus Harps in Chicago! This particular model was the pedal harp that I hoped I could one day own when I first saw it in a brochure! The harp is antiqued maple with roses handcarved throughout the pillar, highlighted in bronze, a gold crown and decal. 46 strings and the most perfect voice for recording CD #3....
In my spare time, I also build lever harps to rent and sell. They find new homes as fast as I can build them! I can only make 2 or 3 a year. It takes 6-8 months for me to complete a harp as it is all hand made by myself after teaching and performing! My 2006 Tara models found homes in WA state and Montana! 2007 will probably not have any new harps released to customers...a new studio building is going up so all my harp building time goes into new studio building!
I maintain a large private studio ranging from 25-35 students. I teach harp, piano, and violin. I have yearly recitals and ensemble groups for my students. My students' ages range from 3-81!
If I'm not teaching, performing or building harps, I love to arrange music. I was trained to arrange by one of my piano teachers. Since there seems to be a demand for lever harp arrangements, I am currently putting arranging efforts there. My two CD's, "For The King" and "Christmas Blessing" feature my arrangements of several songs. Most arrangements are available in sheet music form for other harpists to enjoy!
My future business goals are to continue teaching, arranging, & printing music. Continue to do free-lance performances (weddings, dinners, parties, ect) and join a local orchestra or two with my new concert harp....after I am able to purchase a *harpmobile* (vehicle large enough for my new concert harp!).
I am currently studying violin under Terri Coulton in Charleston, IL and harp under Alice Keene in Champaign, IL. Past instructors include Thomas LeVeck (violin), Beatriz Martin-Ruiz (harp), Deb Sutter (piano), and several other outstanding individuals!
Psalms 33:2-3 (KJV) praise the LORD with harp: sing unto him with the psaltery and an instrument of ten strings. Sing unto him a new song; play skillfully with a loud noise.
Contact Informations:
Nina Lee's Music Studio
Christina (Nina) Marshall
R.R. 2 Box 17a
Bethany, IL 61914
Email: nlm17a@yahoo.com
Phone: 1(217)665-3636
Or visit Nina Marshall's Website