Bio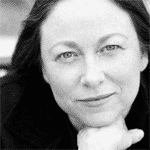 Molly Andrews is recognized as one of the finest interpreters of traditional music, as well as an outstanding vocalist in various styles, bringing a directness and intensity to everything she sings.
Her lineage trails into pre-Revolutionary southwest Virginia, hence a natural affinity with the old songs'. She performs extensively on stages great and small across the US and abroad, from venues as diverse as oxfords' Holywell Music Room, Europe's oldest concert hall, to CBGB's, NYC, home of underground rock. She is a recording artist, a veteran of national Public Radio programs such as Mountain Stage, and E-Town, and has recorded programs for the BBC, BBC Scotland, and Radio Oslo, among others.
Molly first worked in musical theatre in 1995 with The Arts at St. Anns avant-garde adaptation of Grimms' fairy tale 'Ferdinand Faithful' with the Orchestra of St. Lukes in NYC. Principal roles have followed in major equity houses nationwide. In 2005, she was nominated for best actress by the Denver Post, and a nominee for the Virginia Governor's Arts Awards in 2000. She is a 2007 recipient of Chicago's theatrical Joseph Jefferson award. Molly is a member of internationally known 'Hesperus', an early/traditional music ensemble that brings the past alive through collaborations between early music and film, theatre, dance and world music.
Quotes
"Andrews is a quintessential roots vocalist. She is not in this for a star turn; this music is her life. Her roller-coaster voice is pure down-home country. "Miner's Prayer" left me so inadequate to express her ability that I asked an expert in the field, "What comparable contemporary bluegrass vocalist does her voice make you think of?" "Hers," I was told. "That's a one-of-a-kind."
John Moore, Denver Post 2005
"Molly Andrews transcended the show/stage/theater/planet Earth with her badass vocal stylings. We're buying her CD. We're thinking of following her around the country like people used to follow the Dead. A fan is born."
The Seattlest 2007
"Ms. Andrews, a consummate artist, locks into every song - the heartbreakers, the hymns, the ballads, the hits - and finds its soul. Her voice is the real thing.. Truly moving."
Jackie Demaline, Cincinnati Enquirer 2003
Andrews sings with such control.. She induces shivers.. Achingly expressive."
Judith Egerton - Louisville Courier-Journal 1999
For more of Molly's music, visit:
http://www.myspace.com/mollygibsonandrews
http://cdbaby.com/cd/molly
You can also visit Molly's website, linked in the podcast: