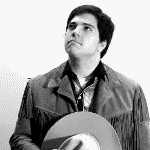 This month we decided while Meade was busy touring in Tennessee it would be a great time to feature him on the podcast. We're a little later getting it out than we had planned to be, do to some technical problems, and frankly hosting just isn't as easy as he makes it seem.
On this short tour in Tennessee Meade played at Accoustic Coffeehouse in Johnson City, then in Nashville he was invited to perform at the Bluebird Cafe` for the writers night show, an honor to be sure. He then performed at Douglas Corner Cafe`, followed by Borders Books. He also was doing a little scouting for us here at Red Barn. Looking over some venues and meeting lots of nice folks.
Hot Apple Pie is not the only podcast that Meade has given his talents too. He has had his original songs played on Great American Music Hour, Next Big Thing, and Upbeat Radio Podcast. These podcasts also feature indie artists of different genre's of music to help get the word out about the fine talent that is out there performing and recording original music not only in this country, but all over the world.
Meade Skelton Biography
Meade Skelton was born Meade Skelton Haufe on April 8th, 1979 in Virginia, the youngest of five children. Growing up in Loudoun county his love of music began at an early age. at 5 months of age he was walking across the keyboard of his family's old upright piano.
By the age of three , he was playing the piano by ear and singing along to pop tunes he heard on the radio. his first true public performance was at age ten, when he won first place for an orginal piano composition in the classical vein, called "Victory." However, Meade wasn't all that interested in Classical music, instead he liked to belt out tunes like Hank Williams and Elvis.
As a teenager he began performing all across nothern Virginia at banquets, church socials, barbecues, open mikes, retirement homes and radio stations.
Although Meade sings various styles, he has found his niche in country, and inspirational music. Blending Humor and heartache he addresses the issues of life through song. Meade's repertoire includes some of the best loved songs of all time in addition to his extensive list of orginal compositions.
A note from Ardith
I'd like to let you know a bit about the first time I heard Meade's music. I'd met Meade, and through our conversation learned that he had his own website and had already produced CD's. We are both christians who rely heavily on our faith and shared many of the same tastes in music, movies and so on. So, it was with a little hesitation that I first went to listen to his music. After all I wasn't sure what I'd think. When I heard his voice I had no doubts that he was gifted by God both vocally and as a musician. Later on I realized that most of the songs he was singing he'd also written and I knew that I wanted other people to hear him too. That was a little over 3 years ago, and in Meade I've found not only a man that is greatly gifted in music, but, also a very good friend. I'm afraid my short endever at hosting Hot Apple Pie really didn't do him justice.
Thankyou Meade, for being our podcast host, I feel we're very blessed to have you.
Ardith