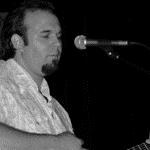 Still in his 20s, Luke Austin Daugherty is a singer/songwriter, 2005 Pulitzer nominated poet, painter & storyteller. Mixing heartfelt lyrics and a blend of acoustic contemporary, progressive folk and blues styles, Luke Austin Daugherty brings an interesting combination of songs, poems and stories to his listeners.
Many of Luke's fans are dubbing his songs as "life songs"...he composes & loops music in front of his audience, he plays many instruments, and sings with such passion...this is separating him from the 100s of performers in the industry and is creating quite a "groundswell" of supporters.
In the last 12 months, Luke has released 3 albums. The most recent is called "Lexi Danced" (5th CD) which is a tribute album for Alexa Marie Shank (Release date February 21, 2007). On September 1, 2006, Luke recorded his first "live" album at the famous Artsgarden in Indianapolis and within thirty days he released his 4th CD entitled "Peace Revolution - Live At The Artsgarden" (Release date September 29, 2006). This CD was given to the top 100 actors, producers, directors at the Heartland Film Festival in October, 2006. In March, 2006, Luke released "Songs and Poems in Brown and Blue" which began his "In Brown and Blue Tour" in Nashville, Tennessee.
Luke has performed over 100 concerts in the last 3 years and has been honored to perform at some very large venues. He performed first stage for the Bruce Springsteen concert at Verizon Wireless Music Center in May, 2006. Luke opened the ROCK INDY concert at Conseco Fieldhouse for 5000 people and also provided a concert at the gallery showing for the internationally known painter, Thomas Kinkade, in October, 2006. In 2006, Luke also performed at the Artsgarden, Indiana State Museum, Indiana State Fairgrounds and at the historic Madame Walker Theatre in December, 2006, where he received a standing ovation for his rendition of "To Save a Life" by The Fray.
Luke also performs at coffee houses, festivals, churches, nursing homes, juvenile centers and missions. Luke has been a featured local artist at Indiana Christian Expo (ICE) for the last 3 years and has been invited back to perform in June, 2007...Luke will open for Avalon and Michael W. Smith.
Luke won the Indieheaven Momentum Award for Blues Artist of the Year on March 31, 2007, at the CIA Summit in Franklin, Tennessee. Luke was also in the top 5 finalists for Acoustic Artist of the Year. Thank you for your votes!
---
Management & Bookings:
Bella Louisa
Email: bellalouisa@sbcglobal.net (Plain text below to copy into web-based mail such as Yahoo! Mail.)

bellalouisa@sbcglobal.net
Telephone: 317-887-1768
Websites:
www.lukeaustindaugherty.com (links to Luke's concert listings)
www.indieheaven.com/artists/luke (buy CDs here)
www.myspace.com/lukeaustindaugherty
www.google.com (for articles search "luke austin daugherty")
Radio Chart -
http://www.indieheaven.com/go.idh?section=radiochart (vote every 24 hours for the song "Lexi Danced" until April 7th)
Purchase CDs:

Online - www.indieheaven.com/artists/luke
Indianapolis Area - Borders Bookstores
Franklin, IN - Friendship Coffeehouse
email: bellalouisa@sbcglobal.net