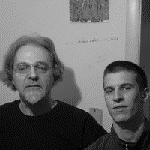 Buck Gooter is a two-piece noise-rock attack that uses theremin, acoustic guitar through effects, drum machine and other gadgets to create a dense, freaked-out sound.
History: Back in ought 5 Buck Gooter self-recorded their first record, What Da Hell? (Now Deleted)
In 2006, through a stroke of good fortune, Buck Gooter had a free session booked at the infamous Inner Ear Studio as part of the DC Free Recording Project (funded by Dischord). The album, TV Evangelist Song, was recorded in the time it takes to listen to it by Hugh McElroy (Black Eyes Sentai) and later distributed by Dischord. 2007 brought forth Woman President, BG's third full length, recorded in their practice space by veteran local hometaper Jim Nipe (Book of Kills). Woman President and TV Evangelist Song were both self-released on Buck Gooter's Black Run Records imprint. Buck Gooter has made a few small tours of the east coast and plans to continue with that sort of thing well into infinity.
Press Quotes
"What comes out sounds like some kind of low-budget Clockwork Orange. It's a car wreck of audio you can't stop listening to." -HardcoreSounds.net
"Using an odd assortment of drum machines, the exotic theremin, and guitar, the Gooters' fashion noisy rock 'n' roll that's peerless and relentless." -Smother.net
"This is such a wonderfully low-tech, 'straight from the microphones to your ears' type of recording, it sounds like Buck Gooter is in the room next to mine, and all the neighbors are about to start pounding the walls to get them to 'stop that racket.'" -Neo-Zine
Contact Informations:
Buck Gooter
P.O. Box 113
Harrisonburg, VA 22803
Email: buckgooter@gmail.com
Or visit Buck Gooter's Website