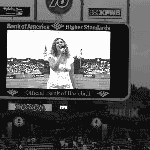 In January 2007, Bree Noble was named Best Female Performer at the Inland Empire Music Awards in Southern California. She was also a finalist in the 2007 En Sound Gospel Music Awards in two categories:Contemporary Female Artist and Christian Contemporary Album. Her powerful vocals and commanding stage presence have captured audiences at large venues such as Saddleback Church and The Coach House. In July 2006 Bree was honored to perform the national anthem in front of a sold out crowd at Dodger Stadium. Those who have heard her will tell you that she has the unusual ability to sing anything from Pop/Rock to Opera.
When she is not ministering to other congregations, Bree serves as worship leader at Glendora United Methodist Church. In June 2007 Bree was honored to serve as a lead vocalist on the worship team and as a featured soloist at the California Pacific United Methodist Annual Conference. Whether she's performing her signature lyric-driven pop/rock or leading a congregation in a familiar worship chorus or hymn, Bree's vocals communicate deep emotion.
Although Bree's vocals are always compelling, they are not her greatest asset. Songwriting is her real signature as an artist. Bree's style has been compared to Nichole Nordeman, Sara Groves, Mark Schultz & Casting Crowns. Musically it is a blend of Contemporary and Inspirational music that is both mainstream and eclectic. In November 2007, Bree was named a finalist in both the Dallas Songwriters Contest and the Christian Contemporary Music Network International Songwriting Contest for her song "Gypsy Road". The song "It's Christmastime" (co-written with Allan Licht) won 3rd prize in the Next Holiday Classic Contest in December 2007.
Bree likes to think of herself not as a Christian songwriter, but as a songwriter who is a Christian. She writes about specific aspects of her own Christian walk, but she also writes about problems that are universal like greed, homelessness, racism, and family situations. Her lyrics explore common emotional issues: apathy, fear, loneliness, mistrust, and seeking joy in suffering. And then there are those special songs that are her most personal, that convey her heart, not just as a woman of faith but as an individual who has learned to overcome great adversity. Bree has Glaucoma and has been legally blind since birth. With songs such as "Running" and "You Are My Vision" she unveils her most intimate feelings about growing up with a disability and how it has affected her life and her relationship with God.
Bree spent her elementary years in Redwood City, CA and then at age 13 moved to Modesto, CA and became very active in the music department at Thomas Downey High School. She attended Westmont College in Santa Barbara, CA and earned degrees in Vocal Performance and Business. In 2007 Bree was featured in an article about her music in the Westmont College Alumni magazine. She has called Southern California home for the past 13 years and has been active as a classical soloist, worship leader and performer in Los Angeles, Orange County & the Inland Empire as well as touring often to the areas she grew up in Northern California.
Bree has performed with several bands over the past 15 years including Zephaniah (Westmont College touring ensemble), Day One (worship band), and the all-female Alternative Rock band Not Martha. In 2002, she released her first solo album, Overwhelmed, on the MP3.com independent label. Many of the songs from the album placed in the top 10 on MP3.com's Christian charts. By popular demand, the album Overwhelmed was re-released in 2005 by Gevania Records.
Bree was a chief collaborator and vocalist on a new Broadway style musical called Little Italian Girl. She enjoyed writing music to fit the storyline and weaving some of her older material into the fabric of the story. The result was a CD of highlights from the musical released in 2003 as well as a CD of Bree's best solo work from the project called Can You See The Stars released on Gevania Records in 2004.
In 2006 Bree began presenting "You Are My Vision", a narrative and musical journey through her life growing up visually impaired, for events including MOPS (Mothers Of Pre Schoolers), Christian Women's Club, women's retreats, worship services and community groups. With this presentation, Bree strives to inspire and encourage audiences to trust God in all things and to lean on Him in times of struggle. Bree received recognition for this ministry in Dec, 2006 in an article for "Amazing Mom Stories" on the MomsOnTheMove.com website.
Bree enjoys collaborating with other songwriters and lending her unique vocals to projects by other artists. She appears as a guest vocalist on several projects by Indie artists and writers including David Aucoin, Jerry Allen, Allan Licht, Michael Borges, Sean Fullerton and Joel Irwin. Recently she has signed contracts with Victoria Lane Publishing and Allan Bradley Music Publishing.
Bree's 3rd solo CD Healing Waters was produced by veteran CCM & AC producer Allan Licht. Released in September 2006, Healing Waters has generated stellar sales and reviews from sites like ChristianMusic.Suite101.com, Depot-Radio.com, AWOE Magazine, Active Christian Media and Channel Z's "The Zeph Report". Bree performs solo and with her band throughout Southern and Northern California at churches, special events, coffee houses and festivals.
Bree Noble: BOOKING & CONTACT
Bookings Bree Noble Music
San Dimas, CA 91773
(909) 599-5529
breenoble@breenoblemusic.com
http://www.breenoble.com
Bree Noble Music-Distribution & Licensing Bree Noble Music
(909) 599-5529
breenoble@breenoblemusic.com
http://www.breenoble.com/